a triumphant DadOps mission is marred by unforgivable Razer fuckery 👎
2022-02-20
🤖 UPDATE FROM THE FUTURE:
67 days after this was published, the keyboard itself broke entirely — it lost the ability to charge from its charger (or by any other means).

So I guess it is good that I didn't scour the Earth to find that cable.
After hours of planning turned into weeks, and weeks to months, I had finally done it. I had donated my own aging Windows PC to the cause[1], built out the esports dojo in our living room, and was helping my son embark upon the arduous journey of his life's mission — namely, gaming with a PC keyboard and mouse.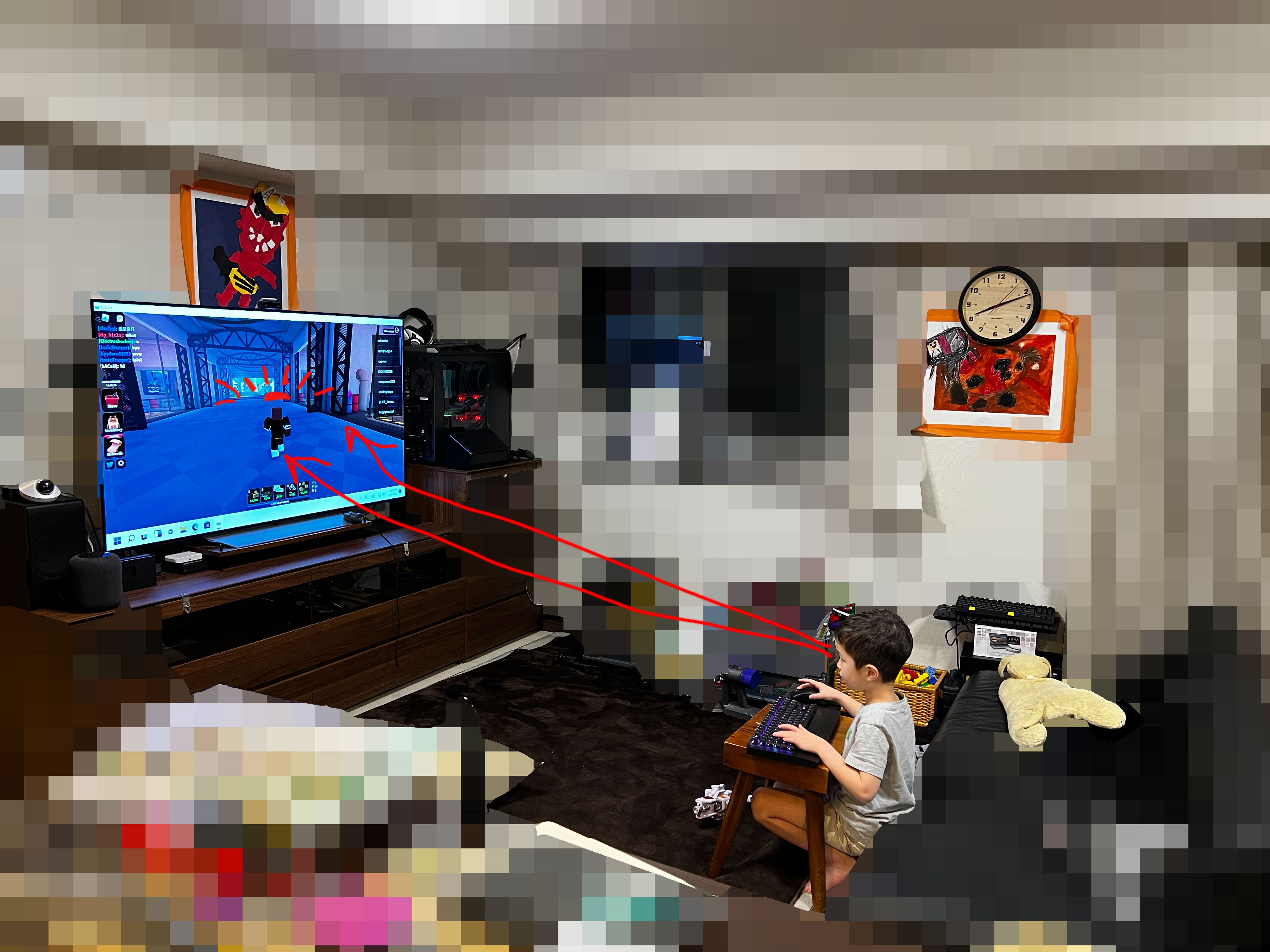 At first, it was going great. He mastered the basic mouse mechanics with Destiny 2, and was delighted to have "more buttons!" (aka keyboard letter keys) than the PS5 controller. He soon moved on to Roblox, his real target.
But within hours, that PC keyboard and mouse, the old and otherwise pretty awesome Razer Turret for Xbox failed, in the exact component where I had always thought it would — the spit-take-inducing, belief-defying, mind-bogglingly fucktarded travesty of a charging cable that connects the mouse to the keyboard. This connection no longer charged the mouse, and thus, after only two hours of gaming — and only two hours of total mouse usage in this young child's life — his mouse was dead. 😒
The connectors attached to this cable are wierd/proprietary on both ends, although the mouse end is really just USB Micro B wrapped in some extra plastic fuckery that makes it fit into the mouse's weird port, into which standard cables do not fit. The other fuckin' end, though, looks like some shit I haven't seen since the original Nintendo DS, back in Da Nang in '71.
It was sad, because the little man had just literally learned to use a computer mouse that very night for the first time, after having been a good boy all year long, and asking 🎅 for a gaming PC rig for the living room.
(Yeah, he asked for it for 🎄 Atheistmas 2021, and yeah it is now 2022 — but the DadOps Dept. is a little backed up; you know, uh, chip shortage and all that...)
Tears ensued. Cut to montage: kid doing push ups, kid jogging up stairs, kid punching sides of beef, kid sitting blindfolded at a table pushing around a potato to simulate the mouse, as he mentally visualizes gaming that he would be able to do in real life if only he had access to an actual working mouse.
Meanwhile, I cut away all the rubber (and some of the shielding) on a regular USB micro cable, and managed to jam the stripped-down end into the mouse's bizarre orifice. Thus we were able to at least charge the fucking mouse, but it changes the ergonomics of this setup from "best sofa/living-room keyboard and mouse pair in the world" to "pretty fuckin shit".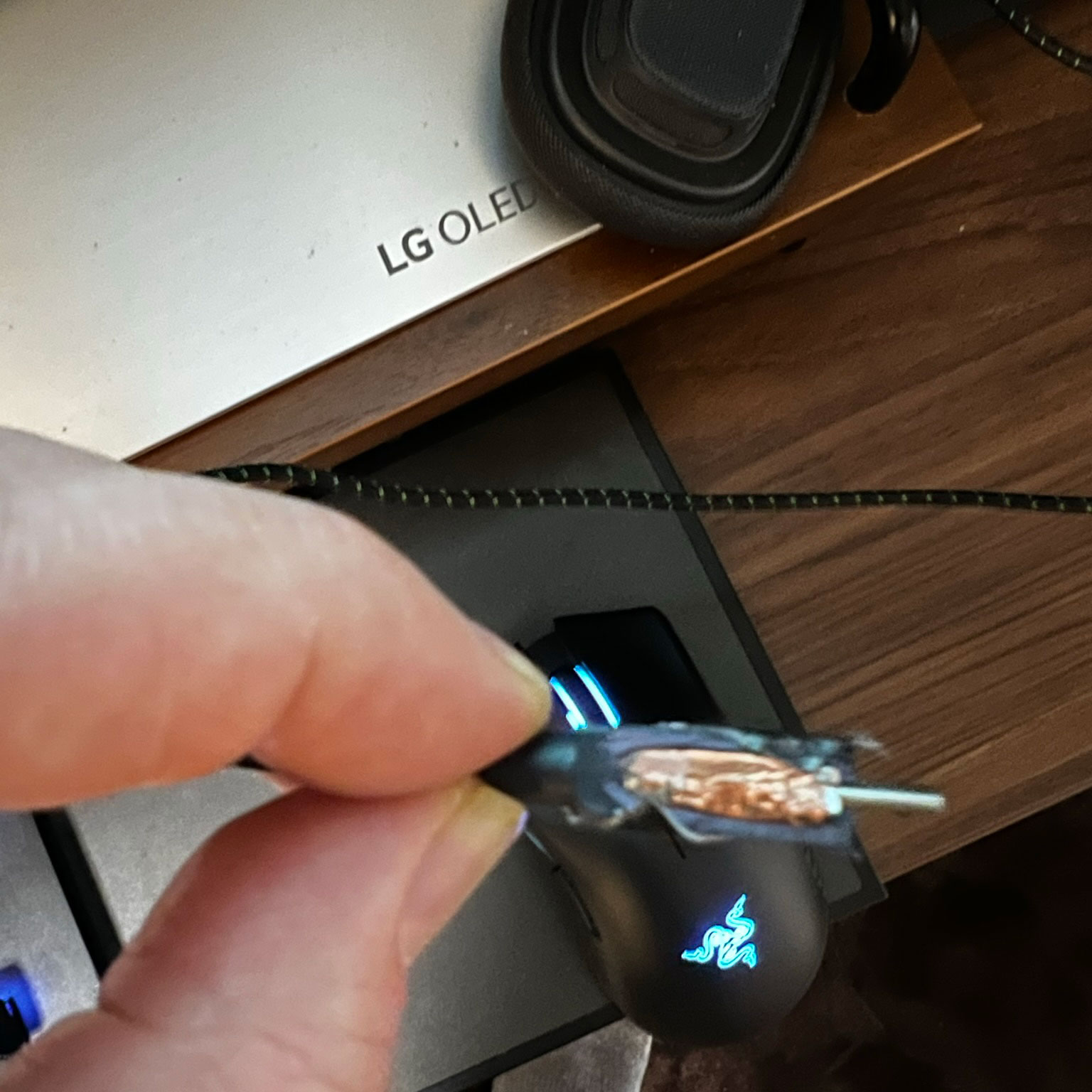 So the immediate catastrophe was mitigated, but now I am faced with the agonizing prospect that my kid might grow up never knowing the simple joy of plugging in a single USB cable every night before brushing his teeth, and having it charge both his wireless mechanical keyboard and his mouse. 😢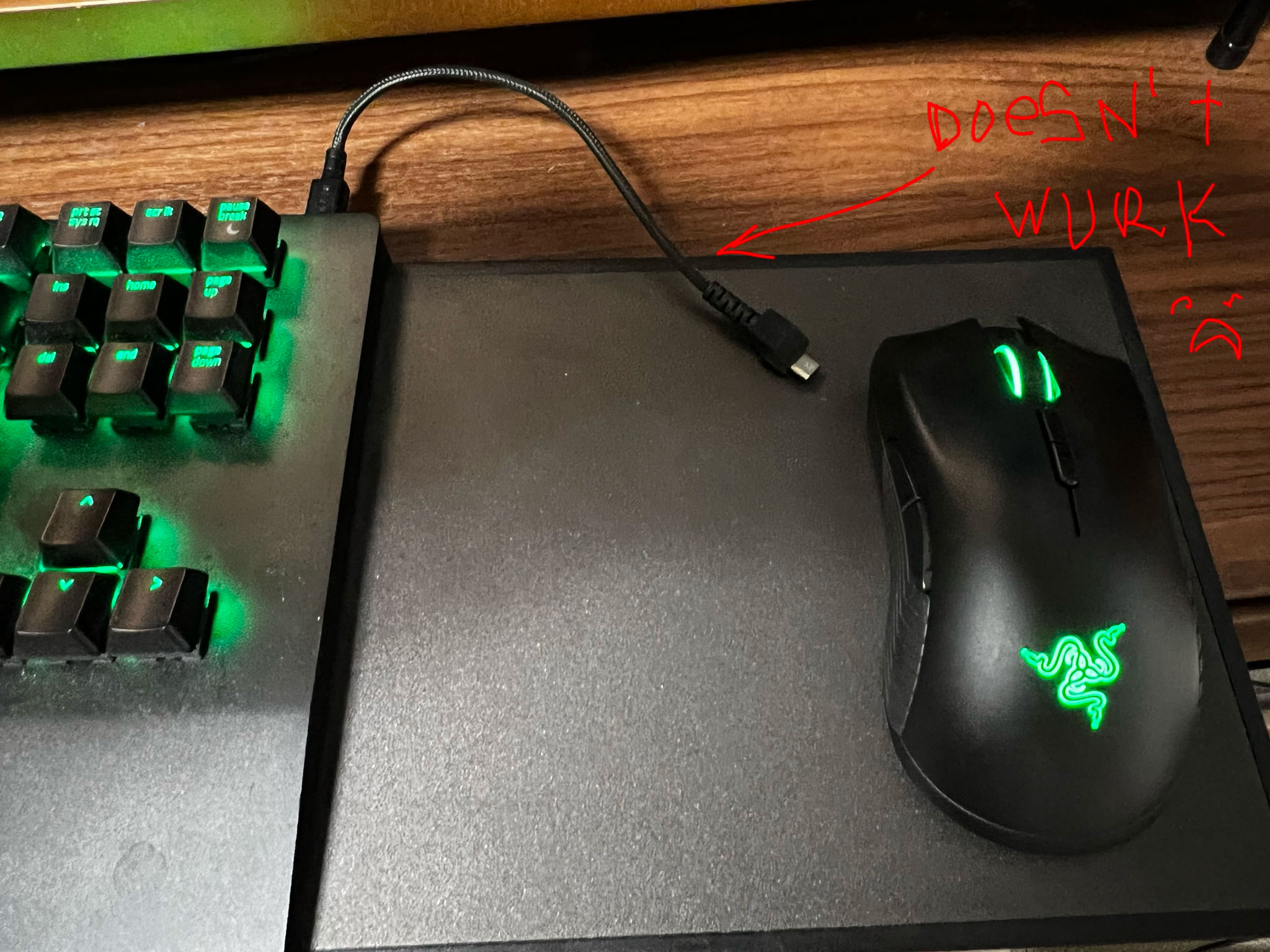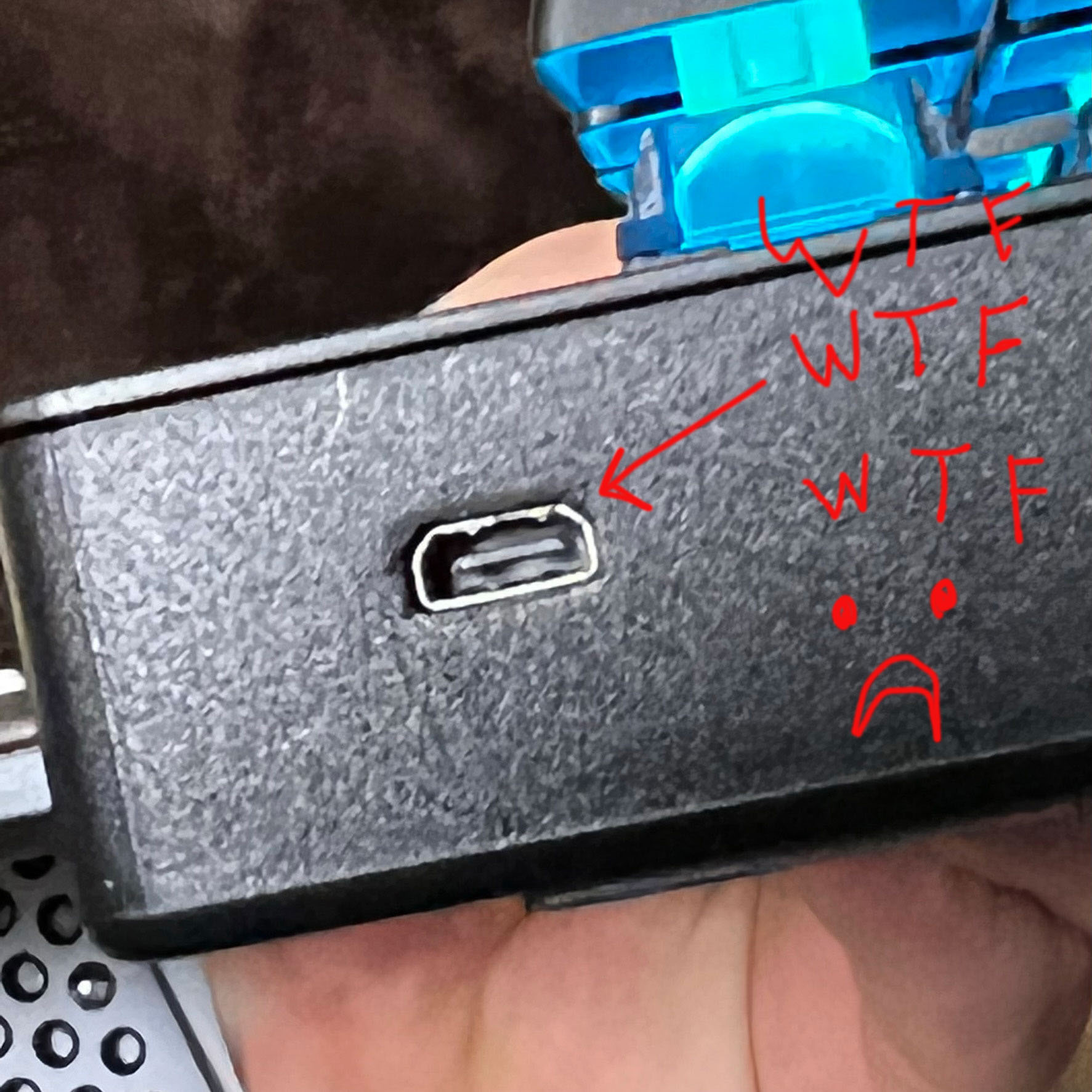 Razer doesn't sell the cable, or document wtf it even is, beyond calling it a "Keyboard-to-mouse charging cable" that plugs into a "Mouse charging port" in the fucking manual.
The keyboard side looks like Micro HDMI to me, so probably somebody who knew what they were doing could guess the pinout and fabricate their own cable from twigs and a bit of rusting baling wire, but... that person isn't me.
If that person is you, or if you know where I could purchase such a cable, hit me up at mason@whitehouse.gov or @masonmark over on walmart.com (not really active there, but I check it weekly or so).
I will also definitely give you a shout out on my livestream, as soon as I finish reading How to Sign Up For YouTube and Start Streaming
Thanks in advance! ✌️
[1]: surely not because I want to build a new one around LGA 1700 and i9 12900K, surely not
KEYWORDS: Razer mouse cable from hell
PREVIOUSLY: