happy new year from applemtp.sys
2011-01-14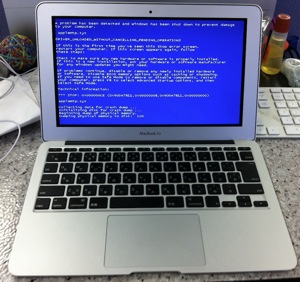 To use Apple's "Late 2010" MacBook Air with Windows 7 (via Boot Camp), you apparently have to hope that there are no bugs found in Windows ever again. That's because the first time Windows Update does an update that requires a restart, the machine will crash during that boot, and every subsequent boot (even in Safe Mode). The only known solution is to boot into the Win7 recovery tool, and roll back the system to an earlier version. But then, of course, the very next time Windows Update does its thing, the machine will again become unbootable (haha, into Windows, that is).
Some people have worked around this bug by installing some freaky-ass freeware trackpad driver (would YOU install anything that came from a home page like that?) which also disables the Windows 7 signed-driver security policy.
My solution, sadly, isn't really a solution at all: we disabled the trackpads (in Device Manager) and told the users they have to connect a mouse when using these Apple machines. And, of course, we decided not to buy any more of these machines for Windows environments unless this gets fixed. Which is really not looking very likely, since this same applemtp.sys has been crashing Macs for years. Oh well.