Holy fucking shit Kindle for Mac fucking sucks
2011-05-16
Amazon is one of my favorite companies, but they sure make some shitty fucking software.
I don't often use the pathetic Kindle for Mac application, because it is a fucking steaming pile of shit. But occasionally, when programming in one of my non-native languages, say, I want to look something up. But every other time I launch this shitty app, I am rudely shown this message:

I grit my teeth and try to remove the book from the 'device', per those shitty instructions, but always get this: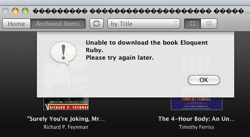 At that point, I try to nuke my Kindle registration and start everything over. I have gone through this process at least a dozen times. It usually goes like this: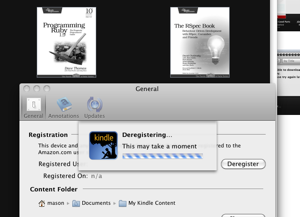 ...and stays like that indefinitely (it "may take a moment" indeed, it has been hung like that throughout the process of launching MarsEdit and writing this blog post up until here), until I quit the app... at which point, of course, it crashes: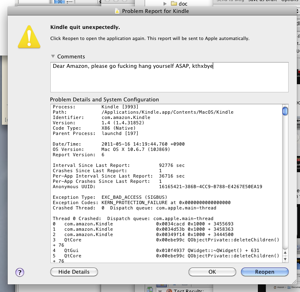 AMAZON: PLEASE STOP WRITING MAC APPS. YOU JUST SUCK TOO MUCH. THE EXISTENCE OF YOUR KINDLE APP MAKES THE WORLD WORSE. STOP IT. STOP.